Gold is not scary but silver is stepping up a gear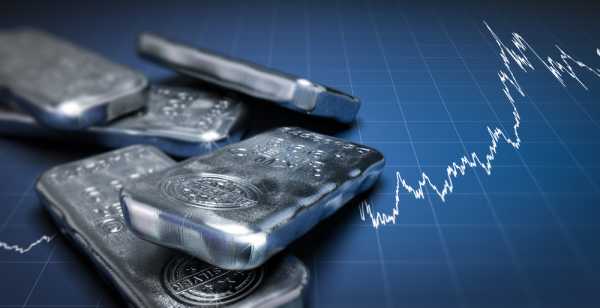 It was Twas Silver's best weekly net gain since the one that ended May 03, 2021 (at +6.2% the best week of last year). And as you regular readers know, Silver has been waiting a long time to get out of the schneid and slide higher.
Gold, maybe? Not really. Since its close a week ago (1817), yellow couldn't do better than reaching 1849 – that's +1.7% – setting its week at 1836, +1.0%.
And yet, what do we have?
We finally have the S&P 500 (or perhaps better said from a trader's point of view in "short" last), on its way to a correction of at least 10% – towards what should rightly be 50% at 60% simply for pricing to match income (i.e. lack thereof);
We apparently have President Biden as the final arbiter between mighty Putin and little Zelensky;
We have stagflation rearing its ugly head as detailed here a week ago;
We have the overnight lending rate charged by the Federal Reserve about to double (yes, they "should" do it this Wednesday, but they will choose to wait another seven Wednesdays until March 16, unless 'in the meantime, they're not implementing a Volcker-like 'massacre' according to last week's missive);
We have US "M2" liquid money supply poised to eclipse the $22 trillion level (according to next week's missive) for a "Venezuelan" +43% increase in just two years ; and…
We have gold that garners no fear bids.
Indeed, Gold became the proverbial Monty Python flayer after going awry on the pedal. Gold has become oblivious to all fundamental influences; instead, its price just drags to the side over weeks, months, and illogicality:
But Sister Silver kicks into high gear with her weekly bars as we show here. And her rightmost circled blue dot is a splendid sight to behold, welcoming her new parabolic long trend to a frenzy:
And not to insist but rather to underline the point: we have gold by our opening chart now valued at 4096 taking into account the debasement of the currency, while being quite tempered for the increasing supply of gold ; and the centennial average of the gold/silver ratio is 66.5x; so arithmetically: 4096 ÷ 66.5 = 61.59 for the valuation of Silver. This is 2.5 times above today's current level. You have money ?
Or do you still have stock?
No problem. We're hardly anti-equity: it's just hard to own something that you can buy back twice its value today… even as the price is now receding. Furthermore, the age-old truth principle remains that the S&P 500 is not so much indicative of a "stock market" as it is an "equity market"; (your website readers know this from our rating and rating page); so there is value if you know where to find it.
However, here's the key point: Year-to-date, the S&P 500's market capitalization has been sucked in by some $3.24 trillion. That's a tremendous amount of money now "sitting on the sidelines"; and it will grow. But when "they" empty it to reinvest it: should it return to risky stocks? Or should he go into debt without risk? "What's it gonna be?"–[Paul Revere & The Raiders, '67] Shiny objects?
Or savings accounts? At yesterday's settlement, the S&P 500 yield is 1.384% with full risk; the yield on the bond is 2.064% risk-free (unless Old Yeller's Treasury triggers a default). Of course, the obvious bottom line is this: it's best to hold something that's worth way more than twice its price: Got gold?
Meanwhile, in the midst of it all, we are seeing the first signs of something wonderful: the Economic Barometer is apparently returning to its role as the directional direction of the S&P. As you know, colleagues and long-time readers, this was the case for the first two decades of Baro. But after determining a few years ago that the stock market will never go down again, the relationship broke down — until the final weeks of the New Year.
Despite the Econ Baro's rightmost dip, we read that "…economists polled by the Wall Street Journal…" still see 2022 gross domestic product growing by +3.3%. "Of course, since the economic fallout from Covid, that number has become unnecessarily volatile.
"How can you say such a large number doesn't make sense, mmb?"
Simply by math, Squire. When the standard deviation of quarterly GDP results exceeds that of their average, it makes no sense. Or in other words, all bets are off the table. Anyway, next Thursday we'll get our first look at Q4 GDP: they "expect" it to have been at an annualized pace of +5.6% after being below half of this rate in Q3 to +2.6%. And to be fair judging by the baro above up to its recent peak, the Q4 number should be quite firm.
By the way, did you notice that the New York State Empire Index in January fell from +31.9 in December to -0.7? "Have a nice day!" Not to be overlooked though, the Philly Fed index of "Little New York" has improved: what a difference just 95 miles can make, huh?
Then there is China, a key difference being that their People's Bank is cutting its lending rate as the Federal Reserve prepares to raise the same rate. (Just in case you are shopping there). "Salvation…"
Next, we fix our eyes on the two-panel chart showing gold's daily bars from three months ago to date on the left and the 10-day market profile on the right. While gold's declining trend is visibly on the upside, its scattered "baby blues" of consistency are anything but. Still, for the profile, there's at least a lot more definition than what we saw in last week's "hodgepodge":
As similar as the similar chart looks for silver, the recent rise in its daily bars (left) is clearly more alacrative than gold's, according to our open. And according to his profile (right), Silver's 23 are now key supports, (but beware "The M Word "crowd…):
Tuesday and Wednesday of the following week (January 25/26) bring together the fertile minds of the Federal Open Market Committee, whose political declarations – despite all the inter-meeting dissent – nevertheless repeatedly achieve unanimity. Our position remains that they are raising their bank funds rate at this time; their attitude will be to wait. But then, in seven weeks, maybe they won't have to…thanks to the "Why raise if then we cancel" service. (wink wink, nudge, elbow elbow). Watch out for the Econ Baro, the extent of the S&P's descent, and absolutely your gold and Silver!!
Cheers!
www.TheGoldUpdate.com